VU4PB Propagation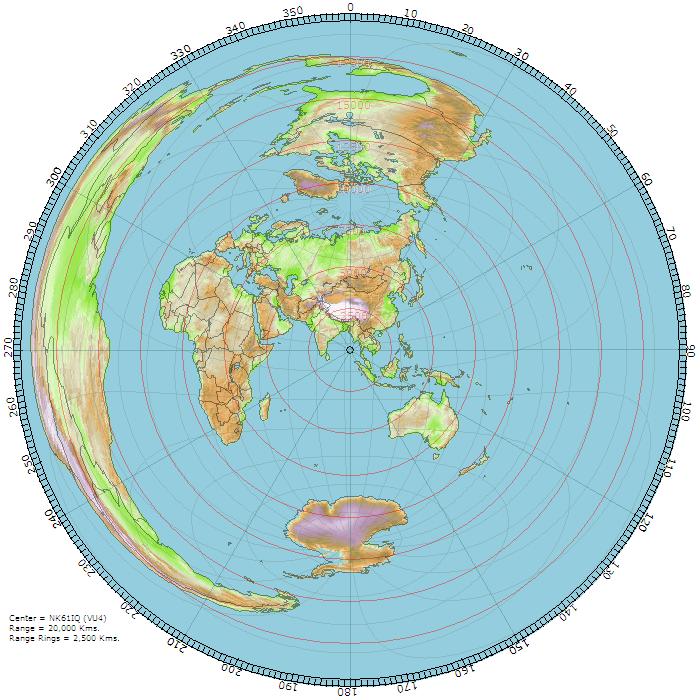 Propagation to VU4 – March 2011
March 2011 offers DXers an opportunity to work VU4 which is #29 on the most wanted countries survey by the DX Magazine. Propagation predictions from VU4 to various areas of the world are given below.
With the path to North America being the toughest, detailed short path and long path predictions are given to seven geographical areas in North America. All other areas of the world should fare well using just short path.
Assumptions for the predictions are:
Mode: CW

Transmit power = 100W on all bands

Antenna gain = 0dBi

Noise environment = Residential

Minimum angle = 1.5o

Signal-to-Noise Ratio (SNR) = 0dB in a 500Hz bandwidth
Your specific openings may be longer or shorter than the predictions depending on your transmit power, your antennas, your site, and your noise environment. Openings will be a bit shorter for SSB due to needing a higher SNR than what is assumed in these predictions for CW.
Detailed predictions for 160m and 80m are not given – the team has an indicative inputs on what to look for when. The times of possible propagation on these two bands are determined by the times when the desired path is in (or very near) darkness. These times can be calculated from your specific sunrise and sunset times and the sunrise and sunset times at VU4.
We will be also watching the high bands to NA given the reports of recent QSOs from there to HS and surrounding areas.
A
B
C
D
E
F
G
H
I
J
1
North America SHORT PATH
160m
80m
40m
30m
20m
17m
15m
12m
10m
2
W1, W2, W3, VE1, VE2
Use your sunrise and sunset times in conjunction with VU4 sunrise (2355z) and VU4 sunset (1201z) to determine when your path is in darkness. Especially monitor sunrise and sunset times.
22-01
21-01
12-14, 18-22
19-20
—–
—–
—–
3
W4
23-00
22-01
00-02, 13-15, 21-22
16-19
—–
—–
—–
4
W8, W9, VE3, VE4
—–
23-01, 12-14
00-01, 14-17, 19-21
—–
—–
—–
—–
5
W5
12-14
12-14
14-16, 00-02
00-02, 16-19
—–
—–
—–
6
W0, VE5
12-14
23-01, 13-15
00-02, 14-17
17-19
—–
—–
—–
7
W7, VE6, VE7
11-17
14-19
16-21, 23-01
00-03, 17-19
00-02
—–
—–
8
W6
11-17
15-18
16-21
00-03
—–
—–
—–
9
10
North America LONG PATH
160m
80m
40m
30m
20m
17m
15m
12m
10m
11
W1, W2, W3, VE1, VE2
Use your sunrise and sunset times in conjunction with VU4 sunrise (2355z) and VU4 sunset (1201z) to determine when your path is in darkness. Especially monitor sunrise and sunset times.
—–
11-12
11-13
—–
—–
—–
—–
12
W4
—–
11-12
00-01, 12-13
01-02
—–
—–
—–
13
W8, W9, VE3, VE4
—–
—–
00-01, 12-13
00-02
—–
—–
—–
14
W5
—–
00-01
00-02
00-02
—–
—–
—–
15
W0, VE5
—–
—–
00-02
00-02
00-01
—–
—–
16
W7, VE6, VE7
—–
—–
00-03
01-02
01-02
—–
—–
17
W6
—–
—–
00-02
01-03
01-02
—–
—–
18
19
Other SHORT PATH
160m
80m
40m
30m
20m
17m
15m
12m
10m
20
Western Europe
Use your sunrise and sunset times in conjunction with VU4 sunrise (2355z) and VU4 sunset (1201z) to determine when your path is in darkness. Especially monitor sunrise and sunset times.
15-01
14-02
12-20
07-18
07-16
12-14
—–
21
Southern Europe
14-02
00-03, 13-22
12-19
05-17
06-15
09-13
—–
22
Northern Europe
13-01
02-03, 12-20
09-17
06-15
11-12
—–
—–
23
Eastern Europe
14-02
12-04
03-22
04-18
05-15
06-14
06-13
24
Asiatic Russia
11-23
00-02, 10-22
23-14
00-12
00-10
05-08
—–
25
Japan
09-01
all day
23-18
00-13
00-12
01-10
02-09
26
Northern South America
21-02
20-03
01-03, 19-21
11-18
12-17
12-15
13-15
27
Southern South America
20-02
18-03
14-21
12-19
13-18
15-18
—–
28
Western Australia
10-02
all day
00-17
00-13
01-11
03-10
04-09
29
Eastern Australia
10-22
09-22
23-02, 08-12
00-10
00-08
02-06
—–
30
New Zealand
11-21
09-22
23-01, 09-11
23-09
00-08
01-05
—–
31
Northern Africa
14-02
12-03
03-22
04-21
05-18
06-17
04-16
32
Southern Africa
14-03
12-01
04-19
04-17
06-15
06-15
08-14
Great Circle Chart Centered on VU4 – Port Blair, Andaman Island

[yop_poll id="1″][yop_poll id="2″]