ARSI QSL Bureau
 The Amateur Radio Society of India runs a QSL Bureau for its members as a clearing-house for incoming and outgoing QSL cards. Incoming QSL cards are sorted by Bureau volunteers and the cards are periodically sent to members. Outgoing QSL cards from members are aggregated country-wise and shipped to the respective Bureau of those countries.
The worldwide Bureau system works on economics of scale, so cards are aggregated and shipped out based on the most cost-effective volume. Hence, there is no guaranteed timeline for delivery. Cards sent via the Bureau may take a year or two to reach their destinations. So, if you are looking for those rare cards urgently, you are advised to send and receive them direct.
The QSL Bureau handles incoming and outgoing QSL cards for its members. There is no separate membership for the Bureau. All current ARSI members are eligible to avail the services of the QSL Bureau.
The QSL Bureau is managed by the Bureau Manager. All Bureau activities are on a voluntary basis and the Bureau Manager may be assisted by additional volunteers from time to time to help manage the activities of the Bureau.
Inbound QSL Cards:
QSL cards received from QSL Bureaux across the world for the Indian Radio Amateurs are sorted by volunteers at the India QSL Bureau. The QSL cards received for each callsign will be recorded and periodically announced on the ARSI website and the email list.
Members should deposit the required fee to the ARSI bank account before they send their request to the QSL Bureau to receive their cards. After receiving the required fee, the QSL cards are dispatched by ordinary post to the member. Once despatched, the Bureau assumes no responsibility for the delivery of the QSL cards to the recipients. Incoming QSL cards will be shipped to addresses within the territory of India only.
Handling & Processing Fee for receiving in-bound cards is Re.1 for each QSL card. Minimum fee is Rs.15/- and further on in a multiple of 5.
As a complimentary gesture, non-members of ARSI will be intimated of incoming cards and they will receive their cards if they desire them once they pay the required fee. They will also be sent an ARSI membership form along with the cards to encourage them to support the society.
Inbound QSL cards will be stored for one year of their arrival and announcement through the ARSI website and email list expecting the member/recipient to respond to the announcement. If we do not receive any response from the recipient/member beyond this period, the cards will be discarded.
The list of incoming QSL Cards available can be downloaded here
Incoming-QSL-Cards-Special-Call-May-2023
Outbound QSL Cards:
Outgoing Bureau facility is provided to ARSI members only. This facility will not be provided to non-members.
Important: Outgoing Bureau facility is available only to DX entities listed in the IARU QSL Bureau's list at http://www.iaru.org/qsl-bureaus.html
Please check the service availability at the above link before sending in your cards.
QSL cards to the closed / de-listed bureaux will remain at the India Bureau till such time that they can be sent.
Members are requested to print their QSL cards in the standard size of 9 cm by 14 cm (3.5 by 5.5 inches) to facilitate easy packing and shipping.
International shipping costs are based on weight, so you may consider printing your cards in light to medium density card material.
Members are requested to sort and bundle their outgoing cards country-wise and mark the number of cards in each bundle, as this will facilitate faster sorting at the Bureau.
The Bureau will ship outgoing cards to other Bureaux at least once a year. The frequency may increase if the volume to any particular country is high. There is no guaranteed shipping dateline for outgoing QSL cards.
The handling & processing fee for sending out-bound cards is Rs.2/- for each QSL card. Minimum fee is Rs.30 and further on in a multiple of 10.
Members should deposit the corresponding fee to ARSI bank account before sending the cards to the QSL Bureau.
The fee for in-bound and out-bound cards should be paid directly to ARSI account. Please send the exact amount corresponding to the in-bound & out-bound cards and nothing extra, as any excess amount if sent, will "not be" carried forward or held in credit for the member.
Please "Do Not" send postage stamps (as fee) to the QSL Bureau address.
Please note:
Inbound cards is Re1 per card, minimum of Rs.15/-
Outbound cards is Rs.2 per card minimum is Rs.30
Calculation Example:
Inbound: 5 cards – Rs.15; 15 cards – Rs.15; 17 – cards Rs.20; 32 cards – Rs.35
Outbound: 10 cards – Rs.30; 15 cards – Rs. 30; 22 cards – Rs.50; 44 cards – Rs.90
Once you deposit the amount in the bank, please send the transaction screenshot and your details by email to enable us to link you to the bank transaction. Do not forget to mention your callsign in the reference column of the NEFT transaction.
Payment may be made by UPI/BHIM by scanning the QR-CODE below: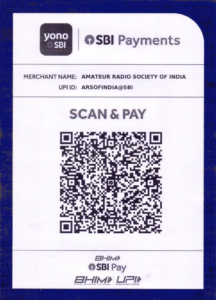 UPI Code – ARSOFINDIA@SBI
Bank Account Details
Account name: The Amateur Radio Society of India
Bank: State Bank of India
Branch: Jayanagar II Block Branch, Bangalore
Account No: 00000064027107040
Account Type: Current Account
IFS Code: SBIN0003286
MICR Code: 560002026
CIF No.: 74005188544
SWIFT Code: SBININBB423
The QSL manager contact email: qslBureau@arsi.info (Please CC to vu2lu@yahoo.com)

The address of the bureau is:
India QSL Bureau
c/o Linux Learning Centre Private Limited
635, 6th Main Road, Next to Bank of India
Hanumanthnagar, Bengaluru 560 019
(Use PIN Code 560 004 for Speedpost)
QSL Bureau Manager: Ramesh Kumar, VU2LU (vu2lu@yahoo.com)
---
QSLing via Buro
Pre-sort your cards based on the DXCC entity prefixes in alphabetical order.
Countries with prefixes having numerals for their regions need to be sorted in ascending order. Example: VK1, VK2, VK3, VK4, etc.
Cards for countries with secondary callsign blocks need to be clubbed with the parent callsign block. Example: All cards for UK prefixes such as G, GM, GI, GW, MM, MI, MW, M, 2E0, etc. will have to be clubbed with cards starting with G1, G2, G3 and so on.
For cards addressed to stations that are managed by QSL managers, please indicate the route clearly. Example: If cards for 5R8AL are managed by G3SWH, your card should clearly state "5R8AL via G3SWH". This card should be clubbed with other cards for G stations to be forwarded to the RSGB Bureau.
Ensure all details on your card are legible and easy to understand for the sorters.