ARSI Membership
Membership of the society shall consist of the following categories:
Patron Member
Life Member
Annual Member
Institutional Life Member
Patron Member: Any individual or firm or company interested in amateur radio and who pays such amount as decided by the Governing Council is a Patron Member. Patron member with a valid callsign shall have the right to Vote.
Life Member: Any member who has paid the Life Membership fee, they have a right to vote.
Annual Member: Any individual holding valid Amateur Radio Licence and such members shall have right to vote.
Institutional Life Member: Any club having a valid Amateur Radio License. Every club will have one vote.
Download ARSI Application Form (MS Word Format)
Download ARSI Application Form (PDF Format)
Individual Membership Categories:
Patron Member – Rs.25,000
Life Member – Rs.4,000
Long Term Annual Membership, 10 years – Rs.2,000
Long Term Annual Membership, 5 years – Rs.1,100
Annual Membership – Rs.250 + Rs.50 as joining fee
Institutional Life Membership Rs.10,000
Please Note:
All payments to be made to the Amateur Radio Society of India, Bangalore. Payment may be made online by NEFT, UPI (QR-Code), Demand Draft or cheque made payable to Amateur Radio Society of India, payable at Bangalore.
Payment may be made by UPI/BHIM by scanning the QR-CODE below: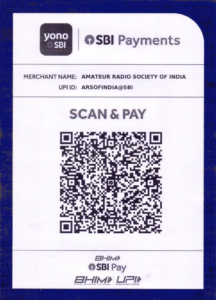 UPI Code – ARSOFINDIA@SBI
Scanned copy of the Valid Amateur Radio License along with the renewal slip has to be sent with the completed membership form
Membership enrollment process cannot be completed without the above documents even after receiving the membership fee.
Administrative Office:
Amateur Radio Society of India
c/o Linux Learning Centre Private Limited
635, 6th Main Road, Next to Bank of India
Hanumanthnagar, Bangalore-560019.
E-Mail: treasurer@arsi.info
You may also transfer the funds electronically to the following Bank account
IMPORTANT:
Please include your callsign in the transfer details and email us the transaction report screenshot.
Bank Account Details
Account name: The Amateur Radio Society of India
Bank: State Bank of India
Branch: Jayanagar II Block Branch, Bangalore
Account No: 00000064027107040
Account Type: Current Account
IFS Code: SBIN0003286
MICR Code: 560002026
CIF No.: 74005188544
SWIFT Code: SBININBB423
In case you find any errors in the list or changes of address etc., are required, please send a message to secretary@arsi.info and a copy to treasurer@arsi.info giving your call sign, membership number, and the changes required.