VU7LD QSL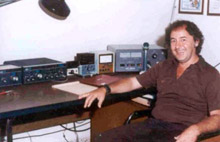 QSL Direct
"QSL Cards for VU7LD may please be sent to the following address."
Joseph L Arcure, JR., W3HNK
115 Buck Run Road,
Lincoln University,
PA 19352 USA
Kindly include a robust self addresssed envelope and enclose a MINIMUM of 2 IRCs (NEW BLUE ONES ONLY) or 1 "green stamp" (U$D) per card and help support the DXpedition. 3 QSO's can be confirmed per card. Donations may be sent to Joe W3HNK and he will pass it on to us. Please include your emails so we can thank you.
Brief About Joe
W3HNK licensed in 1956 was bittenby the DX bug in 1957and was off in a world of DX chasing on CW/AM and eventually
switching likeeveryone else toCW/SSB. Operated in 1970 with own callsign PJ8AR from Sint Maarten,and shared call VP2VY from British Virgin Islands. In 1972 had callsign FG0AFC/FS7 and operated in October of 72′ from French St Martin, in 1973,74 and 79 had callsign VP2EY from Anguilla. In August 1963 became qsl mgr for ZE4JS in Southern Rhodesia (now called Zimbabwe)and kept adding callsigns thru the latter part of the 1960's all the 70's,80's and 90's and have accumulated over 400 callsigns in these 35 years! Been a marvelous ride, met some of the most wonderful people on God's earth. Retired in January 98 and still active with the pasteboards. In December 1979 the Fraternity bestowed upon me an award that I shall always cherish for the rest of my life, when I was inducted into the CQ DX Hall of Fame. 73 and good DX…Joe W3HNK
QSL via BUREAU
Any QSL Cards received via any IARU recognized QSL Bureau will be answered via our QSL Bureau in due course of time.